Each year the Lake in the Hills Youth Athletic Association holds a tournament to celebrate the life of Brian Krueger and to raise awareness of pediatric brain cancer. Fifty percent of the profits from this tournament are donated to organizations like the Midwest Children's Brain Tumor Center to support the patients and families battling pediatric brain cancer.
Welcome to the 2023 Brian Krueger Memorial Tournament!  We are pleased to announce that the 2023 tournament is on and will be held July 6th - 9th! 
Tournament Features:
Available for ages 8U, 9U, 10U, 11U, 12U and 13/14U

Tournament for in-house all-stars ONLY! (NO TRAVEL TEAMS A, B OR PARTIAL ARE ALLOWED!).

Tournament headquarters and staff at all locations during all hours of tournament operation.

Concessions provided at all parks.

Rings for 1st place teams!!!

Individual trophies for 2nd place teams!

Individual medals for 3rd and 4th place teams!

MVP awards for each bracket game!

First-class fields are groomed between every game by the tournament staff.

Patched umpires.
Click below to register your team!
If you have any questions please complete the form below to reach the 2023 Tournament Director, Ron Sowadski.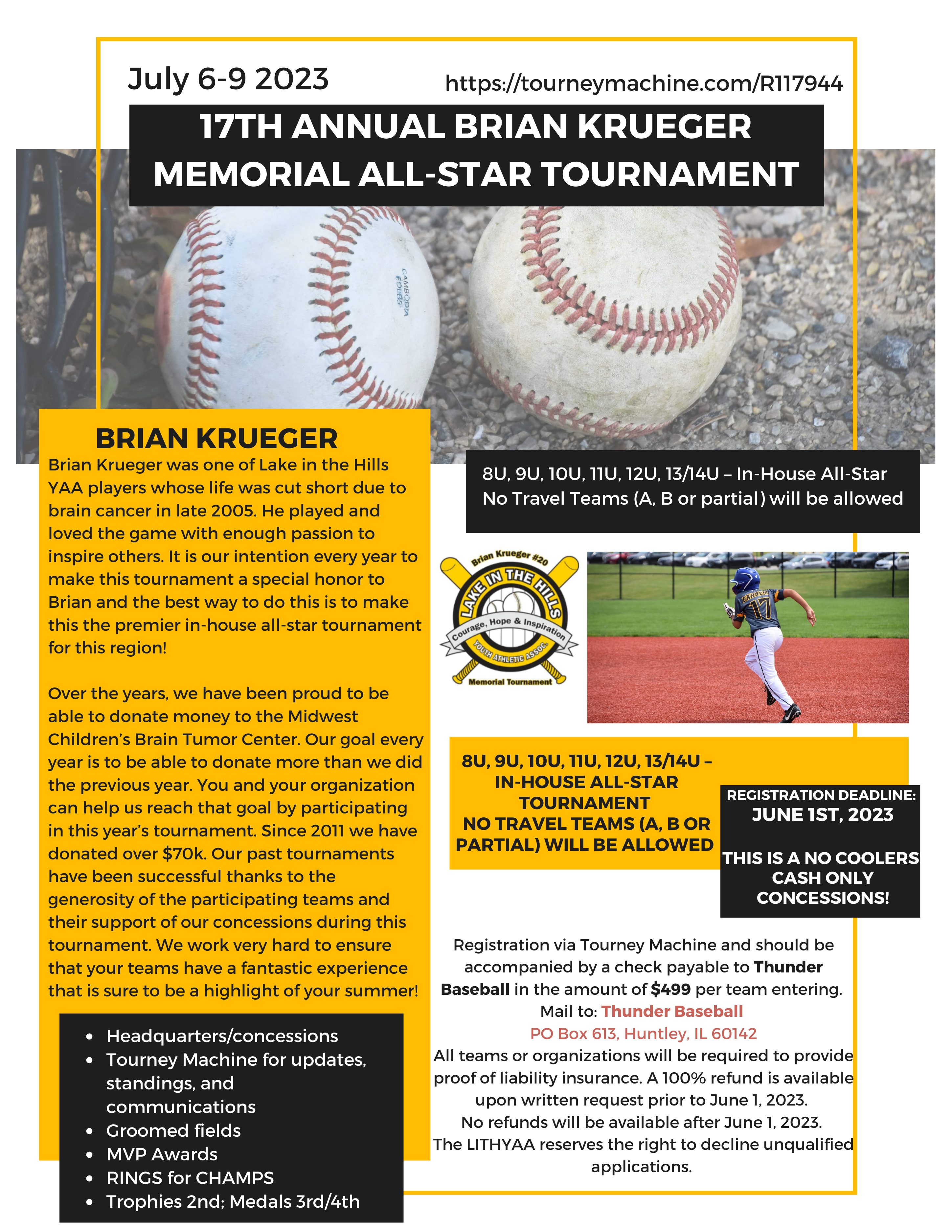 Brian Krueger was born in Park Ridge, Illinois on February 4, 1994. Brian loved baseball, as both a fan and a player. From age 8 to 11, Brian played ball in the Lake in the Hills Youth Athletic Association for four seasons. 
Brian's love for baseball evolved when he was very young, but because of the debilitating effects of his illness and treatments, he did not play ball until he was eight years old. Diagnosed with medulloblastoma (a form of pediatric brain cancer) at the age of four, he underwent multiple surgeries, chemotherapy, and radiation. He had to learn to walk and talk all over again. 
Brian knew he had cancer, but he tried to live his life as if nothing were wrong. He went to school, played video games, enjoyed watching action movies, and played baseball with a passion.
Although quiet and shy, and partially deaf from his illness and treatments, he led by example. He was not an All Star, but he was that inspirational player that every team needs. He lived life as if every day was a baseball game. Even when he was in pain or feeling ill, which was more often than most people realized, he kept on playing. 
Brian would have been so proud, happy, and excited to have this baseball tournament played in his memory. If he were here today, his message to all of the players would be: play hard, never give up, and have fun. He inspired all who knew him with his courage, positive attitude, and hope.
Besides baseball, Brian loved golf and aviation. He participated in Cub Scouts and the YMCA Indian Guide Program for several years. Brian believed in God and his country. As part of a letter-writing project, he wrote to the President of the United States and asked for funding for hospitals for brain tumor research. Brian lost his battle with cancer and died at home in Lake in the Hills, Illinois, on December 23, 2005.
During Brian's illness, the Midwest Children's Brain Tumor Center at Advocate Lutheran General Children's Hospital provided medical treatment, as well as emotional and social support for Brian and his family. The Krueger family wanted to help other children and families as they struggle with this devastating illness.
tournament's History & beneficiaries
In 2006, The Lake in the Hills Youth Athletic Association held the 1st annual Brian Krueger Memorial tournament. Funds raised through entrance fees & concessions are used for family support programs at the Advocate Lutheran General Children's Hospital. A percentage of the proceeds may also go to Bear Necessities, which is an organization Brian also benefited from. They grant small wishes & help fund Pediatric Cancer Research.